Matthew Leahy's death six years ago sparked two-year police investigation encompassing up to 25 deaths as well as an ongoing Health and Safety Executive review.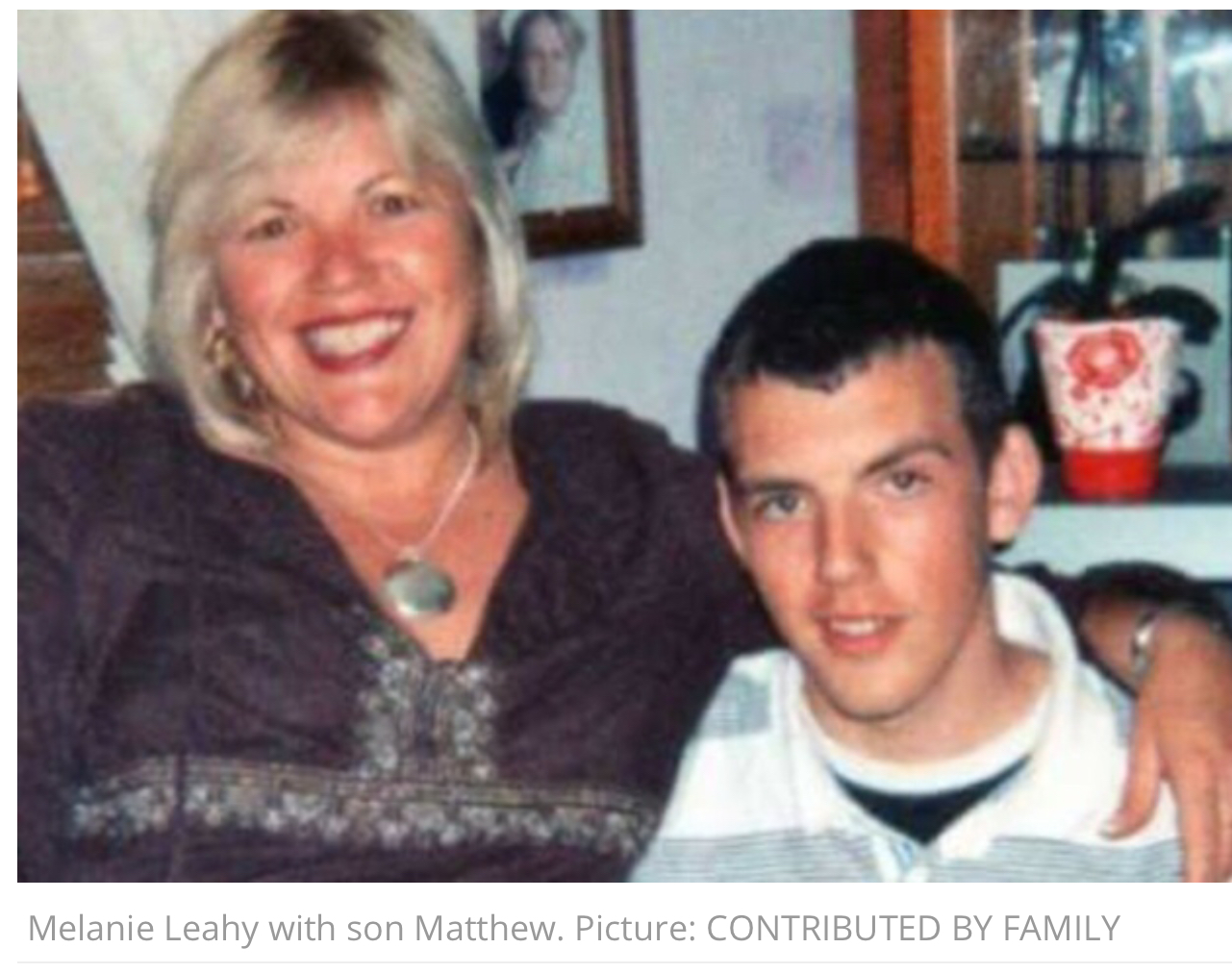 A decision to drop the investigation into the deaths of up to 25 people in the care of NHS mental health services has been described by as a "bombshell" that leaves them without "accountability or recourse", by their families.
Essex Police had spent nearly two years investigating deaths across nine sites at North Essex Partnership University Trust since 2000.
Although they uncovered "clear and basic failings" in care, they decided there was insufficient evidence to bring corporate manslaughter charges and investigators said they will take no further action.
The investigation began in January 2017, looking into the death of 20-year-old Mathew Leahy who was found hanged at the Linden Centre mental health unit in 2012.
On the eve of the anniversary of his death, Matthew's mother Melanie Leahy told The Independent the news had left all the families involved exhausted.
However they are now determined to push for a public inquiry into the trust and reforms of corporate manslaughter legislation to ensure large organisations cannot avoid accountability in future.
"My son died, well it was tomorrow: 15 November 2012, in the Linden Centre. It's been a two-year wait for this meeting, where they dropped the bombshell that there would be no accountability and no recourse, because we're not victims ourselves, per se. They explained that the bar for corporate manslaughter is extremely high, they need to show connection between senior management right at the top and the failings on the ward."
Areas of concern identified by the police include policies on searching to uncover items that could pose a risk to patients, care plans, communication with families and the appointment of appropriate staff.
There was also issues with the numbers of "ligature points" where patients experiencing suicidal thoughts might try to hang themselves.
This is the focus of a separate investigation by the Health and Safety Executive which is due to report in the next six months and which Essex Police said it was assisting with.
North Essex Partnership University Trust merged with the South Essex Partnership University Trust in April 2017, and the body is now called Essex Partnership University Trust.
While the Care Quality Commission watchdog rated the trust "good" on its last inspection, Ms Leahy says the merger has not entirely addressed the issues that existed at North Essex Partnership, which had been rated "inadequate" for its mental health care.
She returned to the Linden Centre wards this summer, alongside Lisa Morris whose son Ben died at the unit in 2008, and she said they were "were absolutely disgusted".
She added: "The staff training is poor, they're using so many agency staff, there's still evidence that observations aren't being done at the rate they're meant to be dong – although they're saying lessons are being learned it's just so, so slow."
The families now want a public inquiry into the trust as well as wider legislation reform.
"It began as just looking into my own son's death but as a group we thought if we could get corporate manslaughter down here, we'll set the precedent for the rest of the country because the same failings are happening all over the NHS. This lack of accountability means the staff, managers, just shift jobs and the NHS allows it to happen.
"The NHS allows it to happen, how can we stop that as just mere families?"
https://www.independent.co.uk/news/health/suicide-mental-health-nhs-police-charges-health-care-matthew-leahy-melanie-a8634056.html
October 2018
This has been a long torturous procedure. Marred with more lies being uncovered. The truth is being revealed bit by bit. Staff were aware my son was in distress on the ward and did nothing. Karma is a wonderful thing. Due to being restrained for legal reasons I am, at present, unable to comment further.
Thankyou all for your support. X Melanie
Relatives of patients who died at mental health units in Essex will be updated on a police probe into 25 deaths in November, it has emerged.
Senior detectives are expected to deliver the outcome of an inquiry into up to 25 deaths at mental health facilities across Essex at a meeting next month.
The investigation, led by the Kent and Essex Serious Crime Directorate, was launched in January 2017 and is understood to be looking into deaths reported from 2000 and onwards.
"We have been carrying out an investigation into the circumstances of a number of patient deaths involving those in the care of the North Essex Partnership University Trust (now known as the Essex Partnership University Trust or EPUT) since January 2017," police chiefs told this newspaper.
"Today, we have written to the families of the individuals concerned to invite them to a meeting to update them on the outcome of our investigation.
We will not be commenting any further until after that meeting has taken place."
It is understood seven patients died at the Linden Centre in Chelmsford, where Melanie Leahy's son Matthew was found hanged in 2012.
An inquest into the 20-year-old's death found he had been subjected to a series of failings and missed opportunities.
Mrs Leahy has campaigned for years for the investigation – having taken her son's case and those of other families to various watchdogs, ombudsmen, and the Health and Safety Executive.
Last year, it emerged the force was launching a probe into nine separate establishments – including mental health units – involved in the care of 25 patients since 2000.
It is understood EPUT will not be attending next month's meeting.
"Essex Partnership University NHS Foundation Trust is a new trust," a spokesman said.
"It took over provision of local mental health and community health services from two former trusts in April 2017, one of which was North Essex Partnership University NHS Foundation Trust (NEP).
"We have co-operated fully with the police investigation into a number of patient deaths under the care of the former NEP.
"Until the outcome of the investigation is known we are unable to comment further."
http://www.eadt.co.uk/news/essex-mental-health-deaths-1-5732004?utm_source=Facebook&utm_medium=Social_Icon&utm_campaign=in_article_social_icons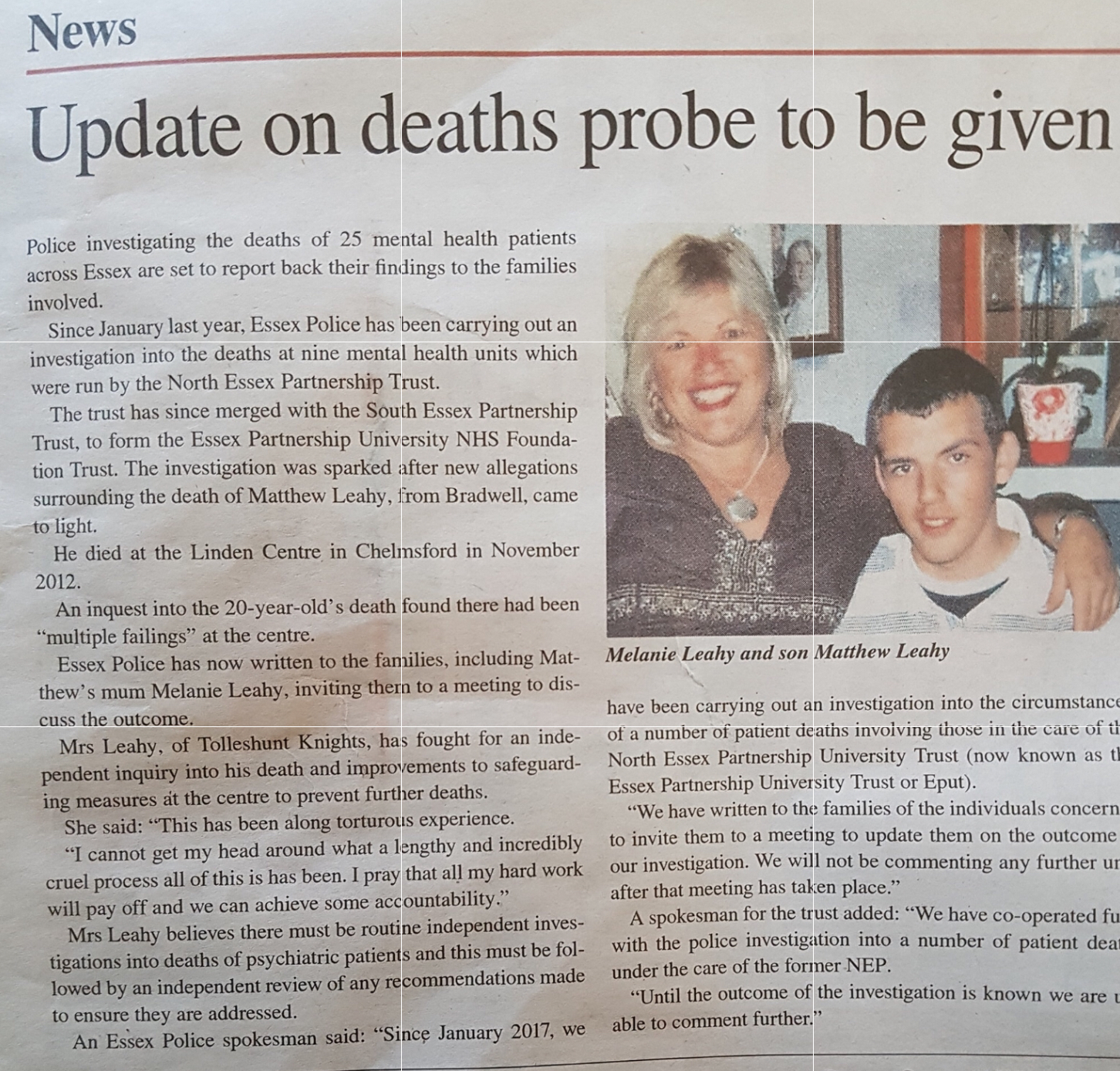 Thursday April 21..2016.
January 2016. …25 incidents reported relating to a ligature attached to a fixed object and two deaths
North Essex Partnership knew of this risk back in 2004. .and did nothing.
Costing lives of Ben Morris 20 yrs. Matthew Leahy 20 yrs. .Iris Scott 73 yrs
John Beecroft 57..Richard Wade 30 yrs and possibly others that have been kept quiet.
Corporate Manslaughter! !!!!!!!!!!!!!!! Comes to mind !!!!!!
April 2016
THE LIARS ARE BEING UNCOVERED FOR WHAT THEY TRUELY ARE.!!!

So the ombudsman is still investigating NEP……and the CQC……taking so much time but hopefully worth the wait.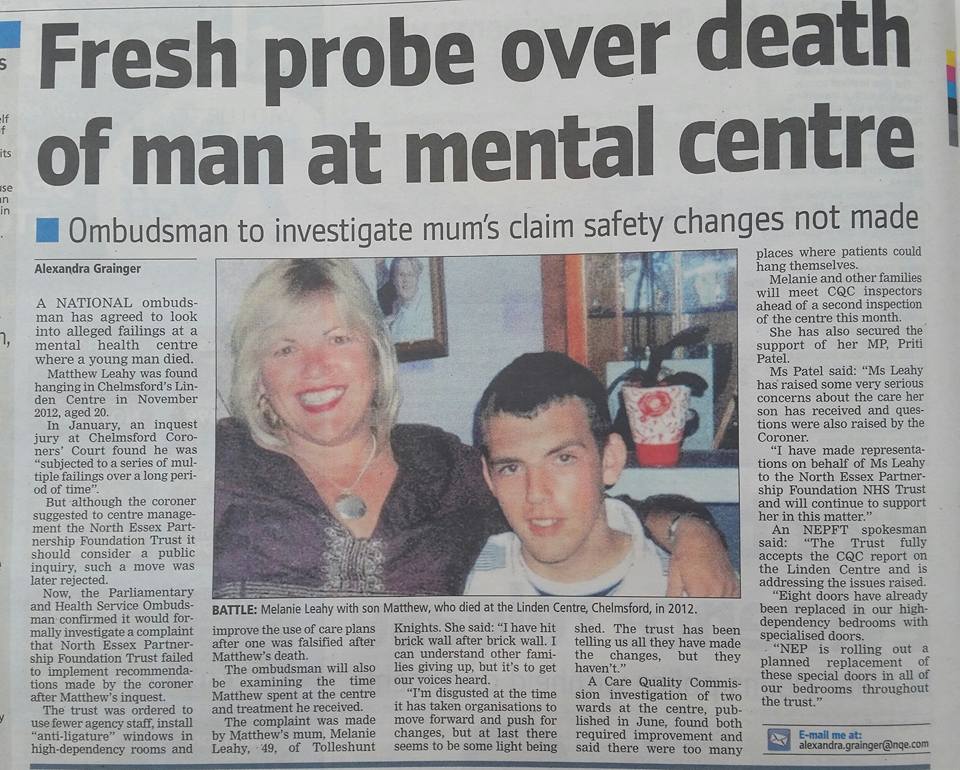 March 2016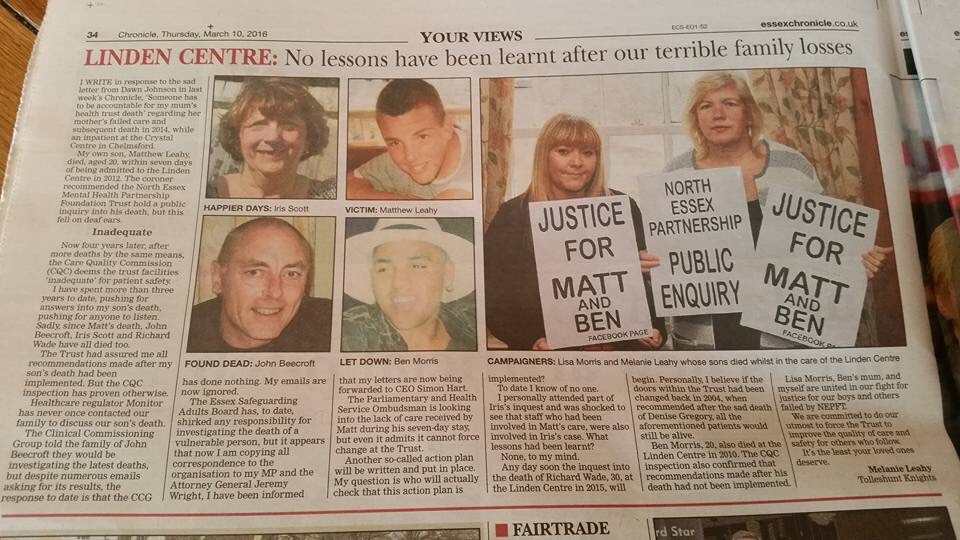 February 2016
Published by Maldon and Burnham Standard
Andrew Geldard. ..gone.!!!!.
AVeryPrivateGentleman says…
This is NOTHING new and this 'Plausibly Deniable' script and 'Disinformation Ethos' that has been pumped out for the last 2 years has manifested into a report such as this, which is an affront and an utter FARCE…'The Lakes' has been a nightmare of epidemic proportions to run…'Top Senior Management' have been exciting out of the back door at 'Crown Court', when approached by BBC Essex, in a recent case "As the repo…rter put it"…'The Funding Commissioners' have enforced changes, which have been much needed, these were implemented by 'The Former Head of Nursing' They graciously moved on to another county…Now the Trust Boss is retiring after tenure, to tend to their garden……

NORTH Essex's mental health trust ignored warnings to protect suicidal patients, a report has revealed.
www.maldonandburnhamstandard.co.uk
November 2015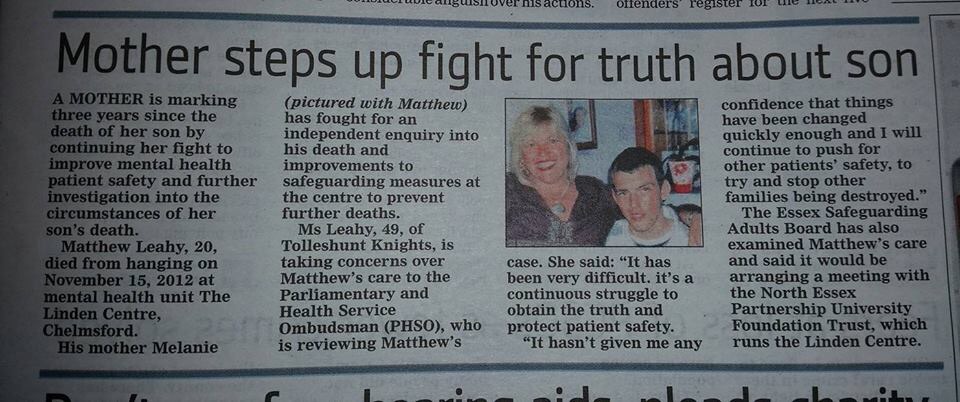 July 2015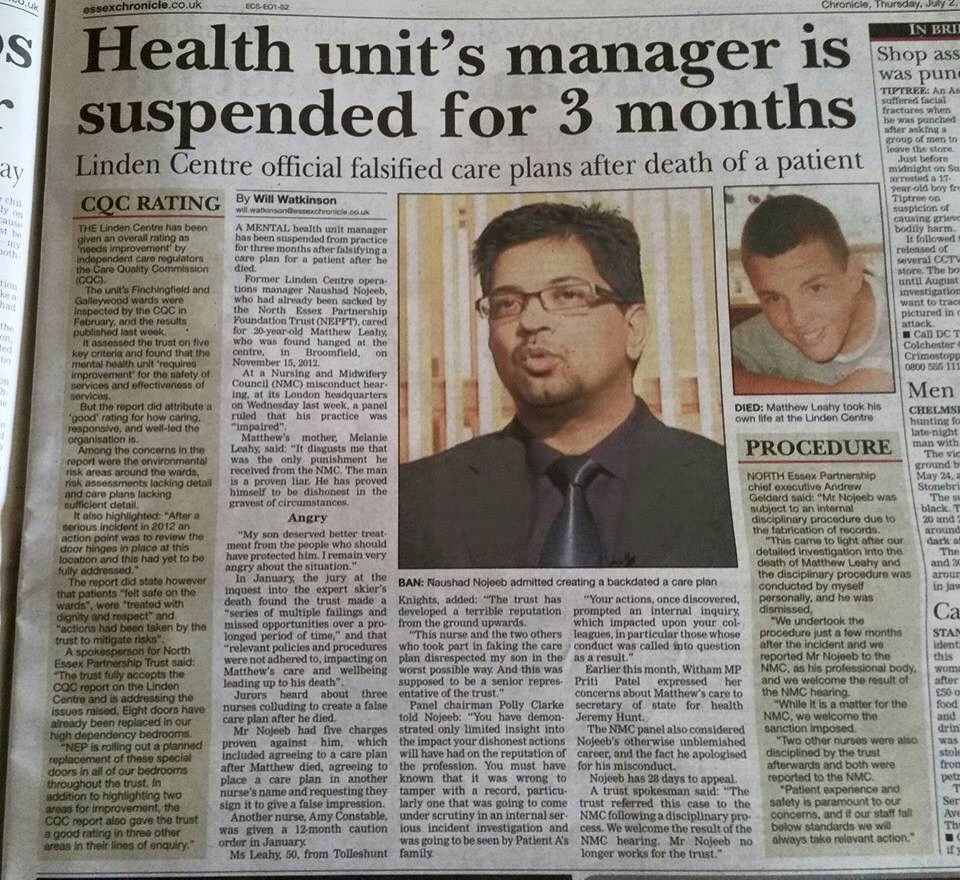 May 2015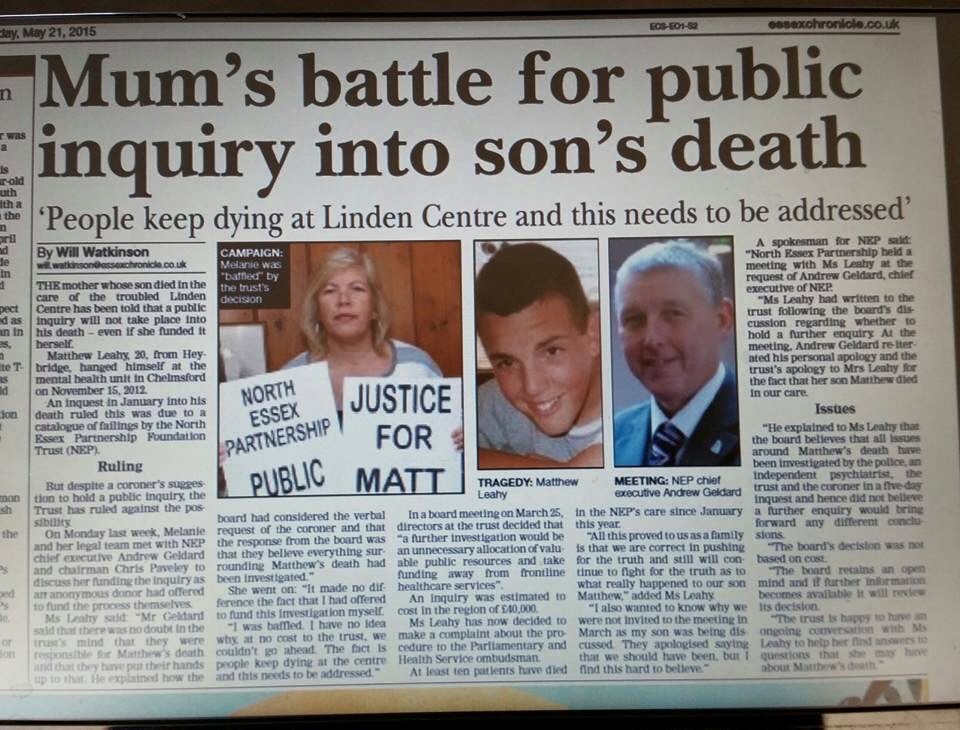 April 2015
The article here says how the coroner had not suggested a public enquires to Matthews Death. Absolute rubbish!!!! She even wrote suggesting it after inquest in a rule 43 coroners report for prevention of future deaths.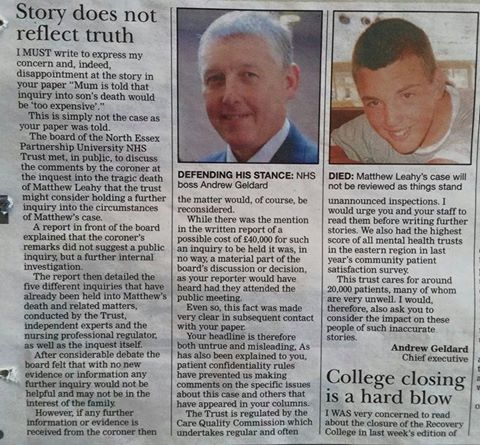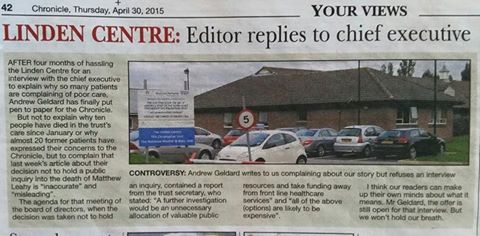 Linden Centre in Chelmsford rules out public inquiry into patient's death on cost grounds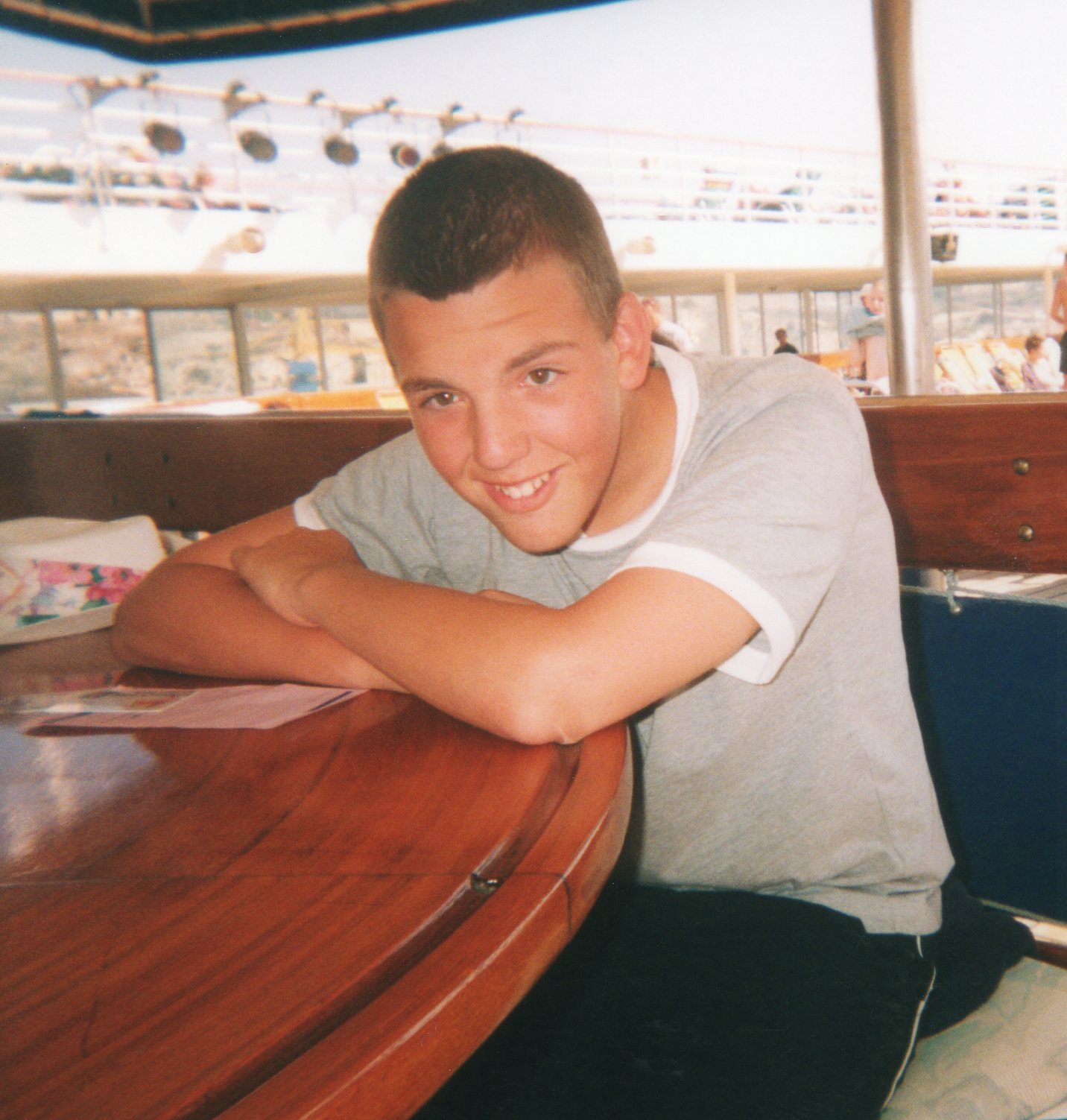 Read more: http://www.essexchronicle.co.uk/Mum-told-inquiry-son-s-death-expensive/story-26373467-detail/story.html#ixzz49JujYxn9
HEALTH bosses at the troubled Linden Centre are refusing to hold a public inquiry into the suicide of a "failed" patient because it would be too expensive.
Matthew Leahy, 20, of Heybridge, found hanged at the unit after what an inquest jury ruled was a catalogue of failings by the North Essex Partnership Foundation Trust (NEPFT), where ten patients in its care have died since January.
But despite a coroner's suggestion to hold a public inquiry, the Trust has ruled it would be too costly for the taxpayer and not in the interests of Matthew's grieving family, even though they have campaigned for an investigation since the inquest verdict in January.
Matthew's mother, Melanie, told the Chronicle: "I was disgraced at the way they presented the information to their board members.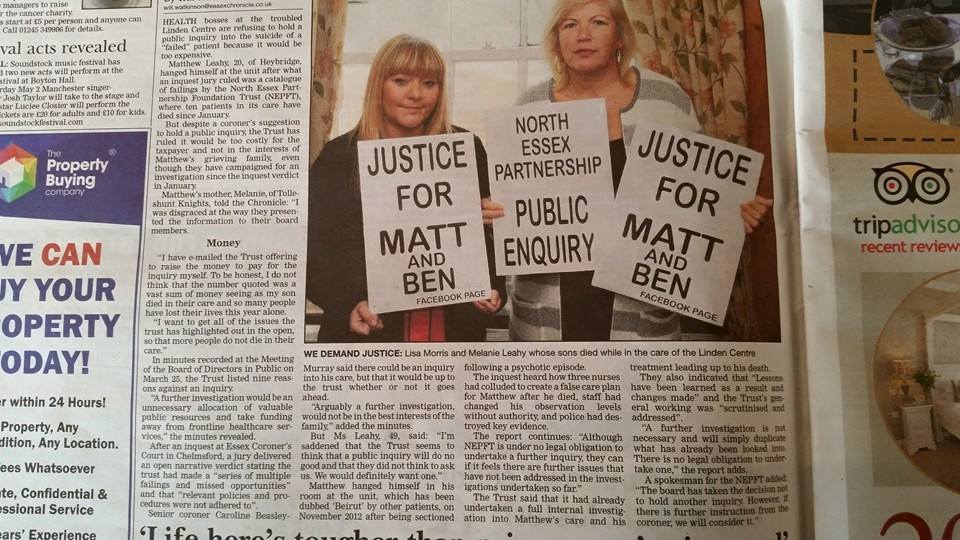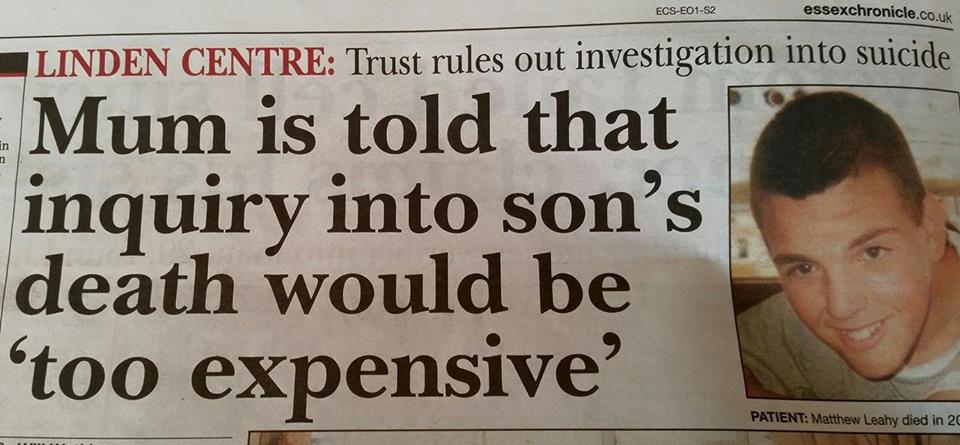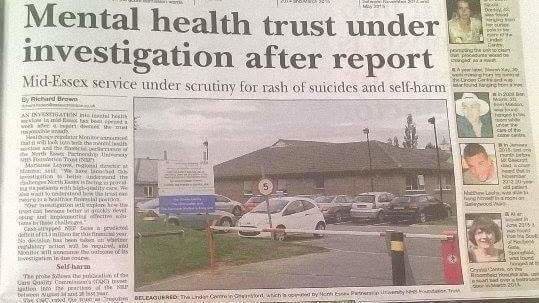 October 2013