March 2018
Written by carer
I have family progeny being treated at the trust and it is a constant fight with them day in and out. Our contact with them has been ongoing for at least 5 years and some brief periods during child adolescence. There are serious safeguarding issues involving patient's, families and contact with some of the staff. Complaints handled by this trust are nothing but a wipe over and any mistakes they make rarely get a genuine apology or management putting their hands up and admitting what they have done wrong. They do not follow N.I.C.E. guidelines and continually flout and interpret the rules and procedures to their own advantage. I have serious concerns as to the professionalism and abilities of some (not all) of the doctors at these units mainly in north Essex. Time and again we've suggested that the trust split up unhealthy staff clique's in this service that have been operating together for some years which fallen into very bad practising habits. Clinical management in certain areas of this trust has been the worst I have witnessed in 40 years experience with the NHS. The CQC and PHE England need to get a grip of this operation and force trust management to sideline or remove some clinical mangers that are just not safe or fit to practise. Patients and their families are being forced or coerced into areas of treatment that isn't consensual or in agreement. If you don't comply with their regime, they discharge the patient back to GP care and in many cases during unsuitable health problems and conditions. Data protection and freedom of information requests have been nothing short of bizarre and appalling. I can see what is happening here and can say we have not had the type or style of service that other patients claim to have had on this thread network. Currently we have a formal complaint with PHSO and even that is being treated with gerrymandering by clinical management and the trust hierarchy. There are deep rooted intrinsic problems at this trust that can only be dealt with via a full internal investigation and formal external review body.
———————-
March 2018
Written by Patient
The staff often won't even do 1 check an hour over night even if you are on level 2 obs (4 to 6 checks an hour) I have been discharged a few times when I was informal for attempting suicide there because 'if they couldn't keep me safe in there what's the point in the admission. On one admission I was on a section 2 and one day I wrapped the blankets around me and set fire to them. The very next day I hung myself from the door.. even with door alarms by the time the arrived I had to have full resus and woke up in intensive care.. I was returned to the ward and 2 days of being back they assessed for a section 3.. the sectioning team didn't impose the 3 because I said I would agree to treatment saying if I tried to leave I would be detained.. in less than an hour the consultant psychiatrist called me in, removed what was left on the section 2 to make me informal then discharged me all at the same time.. if you are distressed by staff verbally being aggressive and abusive they close ranks and the staff won't talk to you about it, they won't even let you talk and cry it out and when you make them aware you want to officially complain they literally laugh and offer to go get you a pen and paper in the way that is cruel in the sense of taunting that you are a mental health patient and nothing will actually be done. There's loads more but I think that gives a good overview, if only outsiders knew what really went on… they take your phone if you take pictures or record audio or visual.. I am not exaggerating or making statements that are inaccurate or misleading.. the system has left me not even sure I will survive til the end of the day more often than not but I'm doing my best because they won't be able to say I was uncompliant if I dont make it to the next day.. if you tell them how you feel they say if you was telling the truth you wouldn't tell them you are suicidal, if you go to extreme lengths to harm yourself it the intent of dying they have literally said if I wanted to really die I would have died by now (two comas on life support in 4 weeks) and will palm people off with home treatment team and if you don't answer the door or phone they drop you even if it's their first visit after discharge from general/ medical hospital when 'medical fit for discharge' … it's far more serious than people realise, even when you are on a section and 6 checks an hour they lie about patients being checked on and falsify their record of patient observations.. maybe people will assume I'm saying this due to 'being under mental health' but how many people have to say the same things (and if they never met, had contact or mutual acquaintances) before it's accepted to be true… how many people have died without being counted in the official statistics…. how many people got told by a consultant psychiatrist 'maybe not everyone is supposed to survive and that sad but that's the world we live in' then discharged after an overdose on the ward, treated, sent back then discharged because you harmed yourself in their care.. that could have been someone's last chance 💔
——————
June 2016
Experience at the Linden Centre and discharge care at C&E
I was admitted to the Linden Centre in November 2015 after attempting suicide twice with depression and anxiety. Staff were considerate and kind and caring. However I found myself so bored as stimulating actitvities ranged from ten minute mindful sessions ( I had practised this a lot myself and ended up giving tapes to the staff who knew less about it than me – mindfulness cannot work for just ten minutes yet it was the only thing to do some mornings). Actiivities were regularly cancelled without any notice which left me feeling so much at a loose end. ~I felt criminalised with aggressive searching by night staff in particular if I had gone out for a walk and it took so very long to sort paperwork for any excursion you had lost the will to go out sometime -up to an hour just to walk over to the cafe at Broomfleld Hospital. The food was designed to make us sleepy and complacent I gained a stone whilst there for the month – stodgy big puddings, doughy white toast, biscuits -we were given far too many carbs/sugar.
My care worker did not have any time for me but churned out the necessary paperwork with reviews often containing repetition of information, riddled with typing mistakes and clearly to me the information was pasted in without any due care or attention as my friend showed me her care plan and the exact same paragraphs were within that.
I was informed on one document that I was a regular self harmer which really upset me as I am not – nurses seemed to busy with admin they got things very wrong in our personal care. Some staff were so empathetic and took time to counsel and be with you – just hug you. The majority of staff however, in particular night staff I found unapproachable and at times quite threatening.
i cannnot praise enough my care upon discharge. i attended all the recovery courses which were difficult as I recognised people there who were from a much more awful place than myself and this was not very motivating especially when it became too much of a platform for their experiences at the Linden Centre – I felt the deliverers should have said this was not the place to complain but to look forward.
My employment specialist and my support worker were both outstanding in their care towards me. They were a constant sort of support – if I texted i knew a response would be there within hours. My employment specialist in particular who I saw at the hospital gave me hope and motivation that I woulld retain my job as a teacher. They were professional and impartial and a very warm and sensitive person who cared for me with such attention to detail with specialist knowledge that my journey back to work felt very stress free and very much a collaborative journey too. They attended and took me to three meetings back at my college and directed my employer towards the support i would receive on my transition back to work in a very honest fashion. My support worker was a sensitive listener and gave me practical coping strategies.
—————————————————————————————————
The invisible patient.
Was an in-patient in here nearly five weeks. I was at the time a registered general and psychiatric nurse and had severe depression and suicidal ideas. On admission I was given no information leaflet and no information regarding my spiritual needs.
My allocated nurse for each shift never introduced themselves each shift, a simple practice that I always did in my professional life.
I found out things from other patients who welcomed me to the ward and e…mpowered me on the road to recovery.
My bed was moved 3 times during my stay.
I was suicidal but no-one ever asked me how I was feeling, I called myself the invisible patient when I challenged the ward manager.
The office door was frequently shut in my face as I patiently waited for something, including my tobacco which was dished out on an hourly basis in a very institutionalised manner.
Most of the nurses could not pronounce my name properly, yet I could pronounce theirs and some even had the impudence to suggest I change my name to make it easier for them.
I witnessed distressing scenes with other patients which were dealt with in a very uncaring, unprofessional manner.
My care plan was a work in progress and I never received the completed one before I left.
I found the Chaplain by sheer luck and accessed communion for myself and other patients.
Other patients approached me for counselling and advice when I needed rest because nurses were spending hours in the office ticking boxes and completing paperwork when their place was on the ward supporting and offering therapeutic time with the patients.
The ward manager blamed staffing shortages for the problems. All my nursing career I have managed units which are short staffed and I have never spoken to any patient the way I was spoken to and witnessed others being addressed.
Male and female staff did not set clear boundaries regarding socially acceptable behaviour or act as appropriate role models.
I trained at The Maudsley Hospital where my training was experiential and group therapy based. The OTs, doctors and the Chaplain exemplified this approach so I don't understand why the nurses were so institutionalised.
———————————————————————-
12th December 2015
Written by a carer
My wife was in the linden centre for two weeks. She had a heart condition and a pain in her leg and couldn't pass solids. The pain got worse and worse. Finally, because another patient made such a fuss, she was transferred to a&e at the Broomfield and then to Harlow hospital where she had a blood clot removed from her leg. 4 days later she had a large clot removed from her stomach. She died 3 days later from LVT, a blood clot in the heart which was causing blood clots around the body.
———————————————————————————————
12 November 2015
Dreadful service – what is the point of them ???????
My mother was left for three months while they gathered information in that time she tried to commit suicide for the third time. Not one person, knows what the other is doing, they do not look in the problem and realise what treatment is needed. I am infact still waiting for a phone call back !
———————————————————————————————————————
1st March 2015
Written by a patient
This place made me 10000x worse, I have been admitted to both wards, galleywood and finchingfield and was able attempt to end my life several times on the unit and also self harmed, staff only found out a few times compared to the number of overdoses I took, when they did they made me feel guilty, misunderstood and not listened to. I don't know how I am still here but this place need a serious change and has failed so many people. The doctors are people I would never trust, the patients support other patients more than staff. People were able to do certain things that shouldn't of happened, members of staff didn't realise because they were too busy in the office.
——————————————————————————————————————–
11th December 2014
Written by a carer
lack of security, when you walk in no one checks your bags, no sanitizer, staff ask you if your a patient or visitor, all staff congregate in the office, patients are neglected, no support, one to ones, counselling, therapies, when a patient is admitted they are not even shown around or told who there key worker is, their personal belongings are stolen, all staff take hours to sort anything out or don't even do it they are incompetent, rude and unhelpful, they don't liase with next of kin, and expect that person to sort all care out, the Linden centre is just a glorified holding centre, none of the staff are helpful and don't communicate in a professional manner when questioned about there neglect, there is no aftercare when they discharge patients and put them at risk to theirselves and others, I witnessed a patient lying in the rain for 2hours on 2 separate occasions not one member of staff supported this person, on another occasion a women sat peeling the skin off both her hands until blood was dripping all over the floor no member of staff helped her she was doing it for 3hours until I went and complained "disgusting", the list goes on No! I would never allow a member of my family to go there ever again.
———————————————————————————————————————–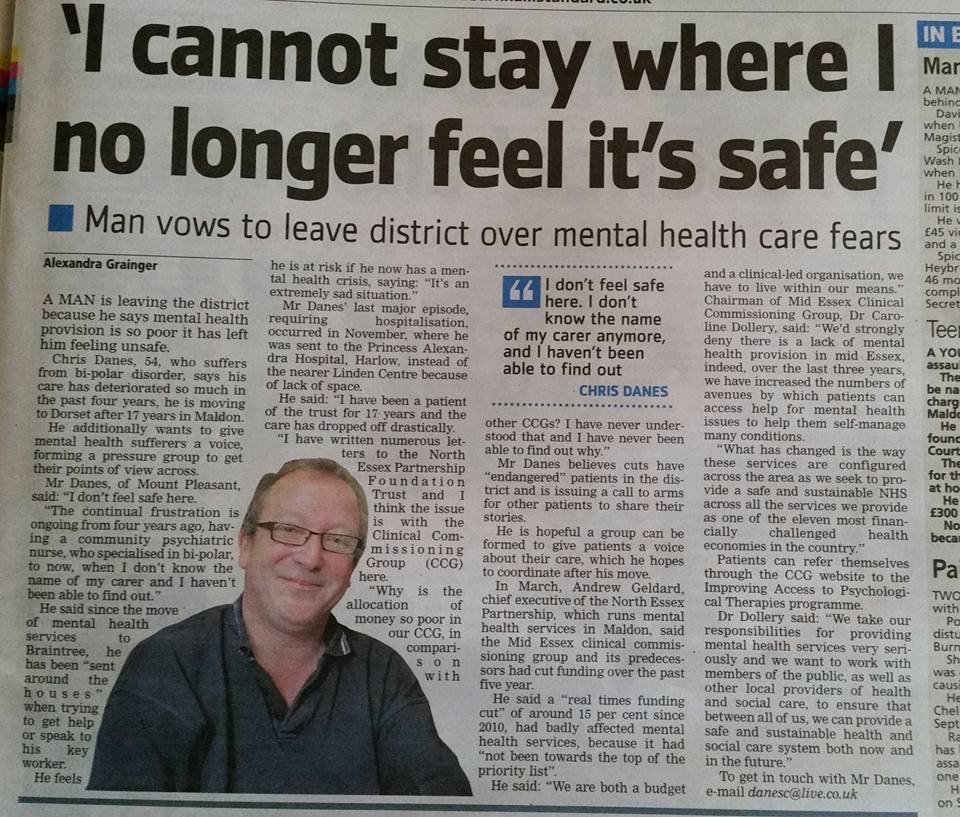 ————————————————————————————
30th December 2014
I have type 1 Bipolar Affective Disorder and so have been in Trust care for many years, This includes both in-patient and out-patient care. While on in-patient care I have been a voluntary patient and 'on a section'. I live in Mid Essex
The care I have received has at times been first class, and at other times mediocre to say the least. Although I was fortunate to have one excellent, caring psychiatrist for a total of 18 years, I've also had lots of others (locums)for 6 month placements . Twice I have changed psychiatrist without a problem.
Out-patient care has been average, but it depends on the quality of individual staff.
In-patient care less good- the Linden Centre, 20 years old, is not built to fit modern care. Staff work within this, and again some are good, some definitely bad. I used every group activity possible, but at the weekend there was nothing to do and it was exceedingly boring, I am told this has not changed, Some of the nurses spend too much time in the office and not to the patients on the ward. It is claimed this is due to all the paperwork. Not totally convinced this is the total reason
The design of the building makes being 'on a section' a bit like being in prison camp. Waiting for staff to let you on or off the ward can be very frustrating,
————————————————————————————————————–
1st September 2014
No crisis care in Maldon ,Essex
No crisis care was provide and I was left the weekend with no help. Complaint submitted thro PALS but continues to be ignored.
—————————————————————————————————————–
7th June 2013
Poor Continuity of Care
I have grave concerns that the constant rotation of junior doctors means there is little to no continuity of care. Not always sure the doctor as any interest in mental health and is simple going through the process so they can move on. I also question the level of supervision given to these doctors.
For me this as resulted in my opinion being given incorrect instruction regarding changing medication and being discharged from care while still ill despite telling the doctor i was not taking my medication. This lead to an increase in the deterioration of my condition.
When i did return for further treatment due to various poor continuity of care and proper oversight of my case they have succeed in providing the DVLA with an inaccurate information about my mental sate. This as resulted in DVLA from taking away my driving license. Lucky for me my employer is very helpful and understanding. I have to wait three months before i can reapply for a new license.
I have sent a complaint in today. My past experience about making a complaint to the NHS was that they will do nothing and it will some how be my fault for being ill.
The worst thing is now that I have no choice but to be treated by them going forward, its not like i can go anywhere else. Yet I no longer trust i will get the correct treatment or rely on them to past the correct information to third parties who may need it.
The complaints process is a joke, there is no sanction for failure and the process is designed to be long winded, difficult and forces persons who are already ill and distressed to just give up.
If the people who run the NHS really want to prove they are interested then may be they should have sanctions against staff who get it wrong. But we only need to see how well the chap in charge of Stafford Hospital did to see how complaints and concerns are dealt with.
To end if your going to have a mental illness avoid the North East Essex Partnership (Colchester) better of going to another area where the doctors might know what they are doing.
I will now have no choice to see if I can be refrered to a different trust. Which will be trips to a different town in Essex with all the hassel that will incur.
———
Further to my earlier complaint above….
Following a meeting to hear my complaint I continued with my care with this trust.
I have received two further consultations.
So to say nothing has changed is disappointing.
I will now have no choice to see if I can be refrered to a different trust.
Which will be trips to a different town in Essex with all the hassel that will incur.
—————————————————————————————————————-